The Icon of the Mother of God «Unexpected Joy»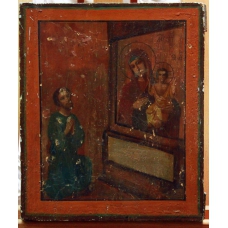 Product Code:
icon
Reward Points:
0
Availability:
In Stock
Price: $512.00

The Icon of the Mother of God «Unexpected Joy», Antique Russian Icon, end of XIX - beginning of XX century. Size - 12.2'x10' (31x25.5 cm)
This icon is one of the most beloved images of the Russian Church – the icon of the Mother of God "Unexpected Joy", whereon there is pictured a man kneeling before the Hodegetria image. The story associated to that icon is narrated in the book "The Bedewed Fleece" by St. Demetrius of Rostov. The story goes about a robber who has been in the habit of praying to the Mother of God before every misdeed, saying "Hail! Mary, Mother of God, Virgin full of grace". Once he saw that after his words the icon became alive, and incredible affliction appeared on the face of the Mother of God. The wounds of the Infant God started bleeding at that. "Who did that? – The sinner shouted – "That is because of you and the like. You keep on crucifying my Son by your deeds" - the Mother of God answered. The sinner started crying. The Infant Christ with a stern look foreboded a heavy punishment to him. Then the Mother of God kneeled before Her Son and started asking Him to forgive the sinner. And the robber bemoaning his sins thoroughly understood that he is forgiven. The terrifying apparition was over, not a robber kneeling before the icon but a person born again in Christ. An unexpected joy of his confession, the transformation power of a prayer for absolution became the theme of this wonder working icon.
Write a review
Your Name:
Your Review:
Note:

HTML is not translated!
Rating:
Bad
Good
Enter the code in the box below: