Welcome to Pushkin Art Store
Lyakhovich Sergei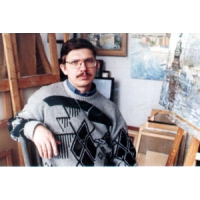 Sergei Lyakhovich is a St Petersburg artist who works in best traditions of the Russian school of painting. He was born in 1961 in the small town of Podporozhie, in the Leningrad region. After leaving art school he entered V.Serov School of Fine Art, and in 1985 became a student of the faculty of painting of the Fine Arts Academy.
His keenness during his student years for the impressionists and Russian artists of the early 20th century became the basis of his picturesque manner already developed to a mature stage. As one becomes acquainted with Lyakhovitch's work, one can find many stylistic parallels and influences with the painting of Pissaro, Sisley, Serov, Korovin, Polenov and with other eminent painters of plain air.
The creative work of Sergei Lyakhovitch is inseparably linked with the poetic imagery of St Petersburg, wherein he finds his source of inspiration. His landscapes are penetrated with thin lyricism, sincerity of feelings and a clear and quiet attitude towards his beloved city.
The author aspires to «especial picturesque freshness» of a landscape, which one feels in nature, and searches to discover in a painting. His works on canvas differ with the ease and freedom of his brush, with clarity and cleanliness of color, with knowledge of receptions of plain air. Written by fine lively brushstrokes of light paint, they pass an atmosphere of summer solar day, or conditions of an early winter morning, as we sense the vibration of the air and the splash of water. The refined ratios of silver-grey and emerald-greenish tones create noble and reach nuances of color spectrum.
Filled with the light and air, and feelings of life's pleasures, Sergei's paintings finally change our perceptions about gloomy and grey St.Petersburg – offering a wonderfully impressionistic and romantically individual view of the city.
The works by Sergei Lyakhovich are held in private collections in USA, in Finland, in Sweden, in Germany.

Showing 1 to 5 of 5 (1 Pages)