Welcome to Pushkin Art Store
Bazanov Alexey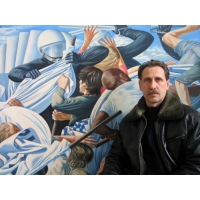 Aleksey Bazanov was born in 1959 in Saratov. In 1978 he was graduated from Saratov Art School and in 1989 from monumental painting studio of I.E.Repin Academy of Arts in St. Petersburg. From 1978 he took part in exhibitions in Saratov, Kaluga, Moscow, St.Petersburg (Russia), Fuenhirol (Spain), Marburg, Munich (Germany), San-Francisco (USA). From 1987 he has been working in monumental painting, using the technique of mosaic, stained-glass window, and wall-painting in architectural objects.
Scenes with naked bathers became the artist's favorite motive. Aleksey depicts complicated multifigural compositions and half-length portraits. The artist demonstrates anatomical knowledge of proportions, painting a naked body. The painter's handwriting according to the academical approach, worships antique frescos with its compositional rhythm, decoration and the classics of color solutions. The sitter's bodies are stylized, purposely flat. It's one of the monumental typical techniques, which Aleksey prefers to use.
Frequently the sitters are on the black background. It stresses the grace of girl's bodies which "burns" like diamonds on a black velvet. Master virtuously paints turbans on the heads of the bathers, quaintly laying folds of luxurious fabrics. Thin pearl threads, which beatify the girls, are depicted with one line.

There are no products to list in this category.