Welcome to Pushkin Art Store
Koulikov Oleg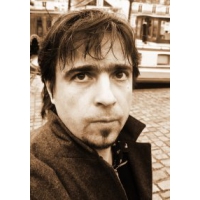 BORN: Kiev, Ukraine
EDUCATION: 1981-1985 Suvorov Studio, Leningrad 1985 Free Attendance Course at Mukhina
Academy of Art and Design, Leningrad
1986-1991 Pedagogical University of Art and World Culture, St. Petersburg.
After graduating, Oleg took traveled the world - absorbing all that he saw. To this day he draws on the many images of his travels as a resource for his still lifes and landscapes. Oleg has always had a rich dream life and it further inspires his work and explains his playful distortion of perspective.
With the encaustic medium each painting is literally infused with color and texture that is unique to this very special technique. Employing a palette reminiscent of the Dutch masters, Oleg's work never ceases to delight.
Encaustic
Encaustic literally means, "burning in". Encaustic painting (hot wax) comes to us from ancient Greece. Beeswax is the oldest known pigment binder. In encaustic painting pigment is added to molten bees wax and resins and then applied to a surface (canvas, paper, stone, wood). The surface itself may be warmed allowing for manipulation of the encaustic paint. On the other the surface may be cool, causing the brushstroke to "freeze" immediately. It is a good medium for creating texture although it may be polished to a high luster if desired.

The final treatment is the "burning in" which consists of passing a heat source over the surface, causing a fusing and bonding of the painting. Encaustic does not yellow over time, is unaffected by moisture, and is impervious to fading.
CAREER: From 1988, Oleg starts exhibiting his art work in art galleries in Russia and abroad. From 1991He makes painting his full time occupation. In 1997 Oleg emmigrates to Canada and settles down in Toronto ,Ontario.1998 -2001Oleg works as an illustrator for Toronto Illustration and design agency "Tree In A Box" creating images mainly for U.S. based magazines and papers including Wall Street Journal, Chicago Tribune, 101Communications Magazine, Reader's Digest.
Currently taking advantage of his dual Russian Canadian citizenship Oleg resides alternatively in St. Petersburg and Toronto pursuing his new projects in computer and video art.

EXHIBITIONS:
1989 Free Artists Union Show, St.Petersburg
1989 Exhibition Hall of Actors House, St.Petersburg
1990 "DA" exhibition, Pushkinskaya 10 Gallery St.Petersburg
1990 International Art Show, Oslo, Norway
1990 "Zone of Dawn" group show, St.Petersburg
1991 Guild of Masters Gallery, selected artists show, St.Petersburg
1996 Toronto Outdoor Art Exhibition t city Hall, Canada
1996 Bourbonne Cultural Center show, Bourbonne,France
1997 Toronto Outdoor Art Exhibition at city Hall, Canada
1997 Scottsdale Art Show, Arizona USA
1998 Zoe's Bakery Show, Toronto, Canada
1998 Siracuse Art Exhibition, N.Y. USA
1999 Novi Juried Art Show, Novi, N.Y.
1999 Toronto Outdoor Art Exhibition t city Hall, Canada
1999 Edward Day Gallery, One Man Show, Kingston, Canada
2000 New York Expo, New York, N.Y.
2001 Cabbage Town Art Festival, Toronto, Canada
2001 McMechaels Museum annual art show, Kleinboug, Canada
2002 Lotto Quebec art show, Montreal, Canada
2003 New York Expo ,New York, N.Y.
2004 Cabbage Town Art Festival, Toronto ,Canada
2005 New York, Expo, New York, N.Y.
2006 Cabbage Town Art Festival, Toronto, Canada
2006 Bourbonne Cultural Center show, Bourbonne, France
2007 Selected artists show at The House of Concert Entrepreneurs, St.Petersburg
2007 Selected artists show at The Saint Petersburg State Union of Artists "Autumn Salon"
2007 Exhibition at Brunoy Cultural center , Paris, France
2008 Group exhibition at The Saint Petersburg State Union of Artists
2008 "Angels" Show at Vodokanal, St.Petersburg
Showing 1 to 4 of 4 (1 Pages)