Welcome to Pushkin Art Store
Akhmadeeva Larisa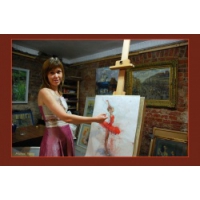 LARISA AKHMADEEVA
1974 - born in Kuybyshev, USSR, now Samara, Russia
1994 - finished the Feshin Art School, of Kazan, Tatarstan
1994 - moved to Saint-Petersburg where has studied at Repin Fine Arts Institute
2004 - member of The Union of Artists Russian and St.Petersburg Pastel Society.
She works in various genres, various techniques. Often works in the open-air. Her works are kept in the private collections in Russia and abroad.
RECENT SOLO EXHIBITIONS
2001 - Landscapes. Beloselsky-BelozerskyPalace, Saint-Petersburg
2002 - Easter exhibition. Nevograph Gallery, Saint-Petersburg
2004 - Artists of Ballet. City's landscape. Gallery of Free Russian Contemporary Art Fund "Mikhaylov's Gallery", Saint-Petersburg
2005 - New spring. National Center Gallery, Saint-Petersburg
2005 - Panting and drawing. Heritage Gallery, Saint-Petersburg
2006 - Art in the Art. Saint-Petersburg department of Artists of Russia Union "Blue Drawing-Room", Saint-Petersburg
2007 - Mood. Exhibition Hall of Moskovsky region of Saint-Petersburg
2007 - Painting. Drawing. Exhibition Hall of Kazan's Union of Artists, Tatarstan. Was marked Ministry of Culture of Tatarstan as event of week in Kazan.