Welcome to Pushkin Art Store
Bakin Sergey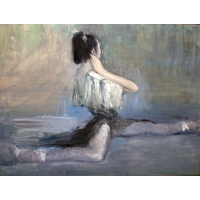 Graduated from:
• Secondary school of Fine Arts at the Academy of Fine Arts and Saint Petersburg Stieglitz State Academy of Art and Design (used to be named after Mukhina).
Awards and titles:
• Member of the Artists' Union of Russia
• Member of French and Saint Petersburg Community of pastel artists.
• 23 personal exhibitions. He took part in more than 200 exhibitions in Russia and abroad.
His masterpieces are at:
• Erarta, museum of modern Art
• State Hermitage
• Russian Museum and other museums in Russia.
• Manner of painting: The artist mixes techniques: pastel, charcoal, sanguine, oil painting – all the materials serve to create a unique artistic image, to express the main aim. Bakin mostly uses pastel and oil paints.
• Style: He continues the tradition of impressionism but in his own way, introducing into the image complicated and bright colorful emphasis.
• Main objects of his work: pastel city scenery and delicate ballerinas. His manner of performance distinguishes by saturation and emotionality. The city for Bakin is a combination of complicated vibrations of colors and barely recognizable edge. Ballet is some kind of chaos, light and uncatchable.
• For Bakin, the genre of city scenery is similar to some kind of creative laboratory, where the artist elaborates his individual manner of performance.
• He is considered as a spiritual son of famous Edgar Degas (the main theme of Degas's work is the ballet and his favorite material is pastel).
• He is a virtuoso of drawing. He isn't afraid of expression and generalization. His works are a picturesque proof of vivid (alive) sensation.
• He is a talented designer, participant of fashion shows in Munich and Paris. He gave up his career of fashion designer for the benefit of the art.
Bakin is a fashion designer! -
• Saint Petersburg Stieglitz State Academy of Art and Design department of fashion design.
• He worked in the House of Fashion for 9 years.
• His fashion collections were highly appreciated at the fashion shows in Munich.
• He refused the offer to work with Yves Saint Laurent Fashion House, preferring art to the world of fashion and thin silhouette of female body to delicate outfits.
• All his ballet dancers are painted from the back, you cannot see their faces because they don't matter, the personality doesn't matter.
• The muse for the artist is something more like a moving matter in the atmosphere than a human being with complicated soul organization.
• Weightlessness and lightness of the ballerinas' silhouettes are shown by the artists with implicit semitransparent scale of colors and lines.
• Ballet for Bakin is ELEMENT, personified in flexible almost transparent human body. The element is full of lightness, intangibility and legerity.
• In his ballet cycle, Bakin is a mystery observer, spying a strangers' life. His is in the secret backstage world, not available for a regular viewer.
• When they don't play their roles, the dancers are graceful and natural. This charm attracts the artist: there is no influence of the role, no masks, no fixed movements. There is only pure naturalness.
• Every silhouette in Bakin's painting it's a dramatic story, individual character and special mood. Emotion of the model is shown through her body language, not through her facial mimicry.