Welcome to Pushkin Art Store
Smirnoff Andrey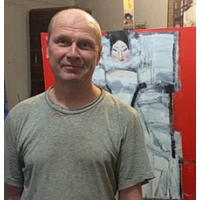 Andrey Smirnoff a member of Russian Union of Artists, is one of the most talented and unique modern painter of Russia, was born in 1960 in Nizhniy Novgorod city, Russia

Artist is highly professional, as a result of serious academic training. The artist started his education in the College of Theater in faculty of Decorating, after that graduated from the St.Petersburg Academy of Fine Arts in an atmosphere of great art that had existed there for two centuries.

In 1997 Andrey Smirnoff became a Member of the Russian Union of Artists

Andrey found his own artistic language, which combines knowledge about traditions of classical art and a search for a new plastic form. Artist works in modern style, uses gold and silver elements. He is painter with unique artistic language, powerful brush strokes and contrasting, sensual colors. Andrey paintings three classical forms –landscape, still life and portrait. But he well known as creator of amazing portraits of women.

He gets inspiration from mystery of women`s soul. Ladies in artist`s paintings are always full of secrets and self-love. They are flirting with person, who watching at them.

Since 1994 artist took part in a great number of exhibitions around the country and abroad.

The main artist`s exhibitions were in Paris, London, Shanghai, Hamburg, Leon and Saint-Petersburg. His artworks are held in private collections in Russia, China, France, Israel, Germany, Austria, Holland, England, Finland and Norway.

Smirnoff Andrey, The Tenant, 50 x 40 cm, oil on canvas, 2014, 2300 gr. ..

Smirnoff Andrey, Green, 50 x 40 cm, oil on canvas, 2015, 1200 gr ..
Showing 1 to 2 of 2 (1 Pages)