Welcome to Pushkin Art Store
Kozhevnikov Vladimir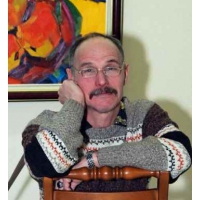 Vladimir Kozhevnikov was born on November 13, 1950 in Leningrad. From the age of sixteen Vladimir studied mechanical engineering for four years.
In 1970 he read "Black Boards" by Vladimir Soloukhin, a story about the beauty and destiny of icons. It changed his life. In the next 15 years, whenever possible, he was helping with the restoration of churches and monasteries – their interiors and frescoes. During this time he learnt to appreciate the art and he studied painting in Pavel Utkin's studio in 1976-1985. Remarkably, Vladimir also obtained a Master's Degree in Physics from Leningrad State University by 1977.
In 1999 Vladimir Kozhevnikov was elected to the Artists' Professional Union of St. Petersburg. He calls his paintings "expressive impressions", he is a colorist by nature. The artist and his paintings have many things in common: strong, colorful, energetic and full of life. His academy-trained fellow artists sincerely admire Vladimir Kozhevnikov's paintings.
Works in Public Collections
• Pompidou Center Paris, France
• Building of the Congress Washington, DC
• The State Museum of Russian Arts St. Petersburg, Russia
• The State Museum of Fine Arts Pskov, Russia
• The State Museum of Fine Arts Kostroma, Russia
• The State Museum of Fine Arts Vyborg, Russia
Vladimir's works have been exhibited as a "One-man show" numerous times by the 20th Century Gallery that works in association with Barkes and Barkes in London.
He also participated in three exhibitions of Russian artists in Paris and Lyons in France and Orebo, Sweden. Besides exhibiting in Europe and America, Vladimir constantly participates in art exhibitions in his home city of St. Petersburg, Russia.
Showing 1 to 9 of 9 (1 Pages)