Welcome to Pushkin Art Store
Robert Mif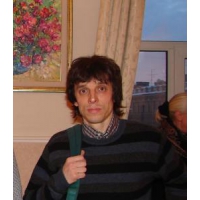 Robert Mif's cityscapes are like steps on the way to the Harmony, to its comprehension and recreation. He shows a bird's-eye view of the city, view from
the roofs and garrets. It seems the flies over the city and catches glimpses of the
cathedral's domes, embankments, canals, bridges. As a true artist Robert Mif not
only feels the beauty of the world around him, he understands it, sees some pattern that lies at the heart of it. Hardly is he attracted by magnificent palaces and wide squares. He is much more fascinated by Petersburg of Dostoevsky with its well-like inner courtyards of the houses, Kuznechny lane.
Most of his paintings have intrinsic lyricism, modesty and simplicity of expression means. He is attracted by harmony of light- and- show relations, silvery and pearl tones, delusive monochromaticism of the night light. Strict and balanced composition, quiet color spectrum and extreme laconicism of the artistic language constitute the unique manner of the artist. Robert has a fresh and immediate feeling of the soul of Saint-Petersburg, rainy and misty, spacious and fascinating, and he manages to portray it in his paintings, full of genuine lyricism.
Robert Mif was born on the 14-th of April in 1966 in the City of Kazan.
1978-1982- student of the Children School of Art in the City of Nizhnekamsk.
1982-1986- Student of the Kazan Art School.
1989-1995- student of Saint-Petersburg State Academy of Art and Manufacture (Department of Architectural and
Environmental Design).
Since 1996- devotes himself to painting. Makes artistic trips to the Baltic States, to Scandinavia, to the Academic Country House named after I.E.Repin and often paints on plain-air in the environs of Saint- Petersburg.
Member of the Artistic Union of Russia, member of nongovernmental organization "Vernissage of Independent Artists of Saint-Petersburg".
Participant of large number of exhibitions in Russia and abroad.
Paintings by Robert Mif can be found in the Administration of the Governor and in the Government of Saint-Petersburg, in private collections and in collections of different museums in Russia, Great Britain, Germany, France, USA, Japan, Finland and New Zealand.
Showing 1 to 4 of 4 (1 Pages)