Welcome to Pushkin Art Store
Alexandrina Irina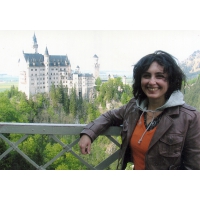 Cities are like people. They have their own characters, habits and inclinations. They feature their own tastes and passions, lifestyles, advantages and drawbacks. Especially those that were opted for by time and history.
The art of Irina Aleksandrina is that of the brightest multifaceted arts of city landscape painting. And that is not surprising because Artist Irina Aleksandrina's biography is closely connected with Saint-Petersburg, that is considered to be one of the most beautiful cities in the world. This is a city that features both unique history and unique architectural ensembles.
And that was Saint-Petersburg where Irina Aleksandrina studied in the Secondary Art School named after B. Joganson, and then, in the period of 1984 to 1991, was a student at the Institute of Painting, Sculpture and Architecture named after I. Repin being part of Russia's Academy of Arts. During her studies in the architectural faculty at Professor V. Voloncevich's class, she was mastering the art of painting in Professor N. Andretsov's studio (school).
After graduation from the Academy of Arts, Irina Aleksandrina was actively mastering the painting. She was deeply involved in studying different techniques, materials and themes. As a result of her long creative quest, she found her main and favorite theme - cityscape. But today Irina Aleksandrina is more and more turning to other themes in her art - portraits, historical scenes and still life painting.
From 1996 on, Irina Aleksandrina has been an active participant of exhibitions held not only on Saint-Petersburg and Moscow, but also abroad. Frequent creative travels allow the artist mastering her art style. During such creative travels Irina Aleksandrina has been exploring the architecture and, by visiting the major European museums, she has been puting together patterns of the general picture of city landscaping history. Usually these travels take several weeks, sometimes even months, because to « feel the metaphysics of city», as the artist herself says, it takes quite a bit of time. For Irina Aleksandrina, every city is the source of inspiration, be it Prague, Berlin or Florence - she searches for a mood, not for a particular postcard view. Indeed, it is a long and hard effort - which is confirmed by the multitude of sketches and pleine-air drawings made in various corners of Europe: 1997 - Prague, 2000 - Florence, 2001 - Pisa, 2004 - Berlin and Dresden, 2006 - London, 2009 - Paris.
The Artist has had more than 10 personal exhibitions. Among them numerous exhibitions held in Moscow, Saint-Petersburg, Prague, Barcelona, Florence, Beverly-Hills that can be considered as part of her artistic treasury. The paintings by Irina Aleksandrina were presented to several politicians of European countries. Moreover, her paintings are on display in corporate collections of some leading banks and are enjoyed by some private collections all over the world.