Welcome to Pushkin Art Store
Kondratiev Michael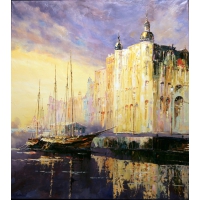 Mikhail Kondratiev, son of a diplomat, was born in 1957 in Berlin, East Germany. In 1979 he graduated from the Tula Polytechnic Academy. Workingas a constructor from 1979 to 1987, he engaged in painting at the same time. Since 1987 he arranges personal exhibitions in the galleries "Harmony", "Borey", "Heritage", «S.P.A.S.». From 1996 to 2005 he actively collaborated with the gallery «RUSSARTANNA», Paris, participated in many art exhibitions which were hold in Paris and in other cities (Bordeaux, Cherbourg, Nancy).In 1998he took part in the exhibition "Russian artists in Italy", San-Bendetto-del Tronto. Since 2005 he is a board member of the creative association "Polirealizm XXI century", St. Petersburg. Works of M. Kondratiev are in galleries and private collections in Russia and abroad.
His canvases are bright and sunny; they draw attention by their romantic mystique. Kondratiev is a great master in painting with palette-knife and brush. In many works we trace his love to the water element, it fascinates and surprises him. He manages to transfuse the effects of light and shadow on the sea surface, the infinite change of water shades. To achieve the tonal nuances, he skillfully uses the glaze, and painting becomes easy and graceful, there is almost watercolor transparency in the transfer of color gradations. The colors give the artist first of all possibility torender the space, volume of items, the distribution of color on their surface. Kondratiev's canvases seem to be not of color but of light.
Having arrived in St. Petersburg, the artist fall in love with its unique, exciting and attractive beauty. Perhaps, therefore, most of his works are devoted to his beloved city. The city has formed him as a person and an artist.

His works which were created during the trips to Finland, France and Italy are of particular interest. The main featurein them - it's acolor, he tries just through the color to make a viewer feel the same what he did in these memorable places.

The art works of Kondratiev reflected his inner state, his cheerful admiration of the world, a thirst to see the beauty and give it to people.





Showing 1 to 14 of 14 (1 Pages)