Welcome to Pushkin Art Store
NEW! NATIVITY SCENES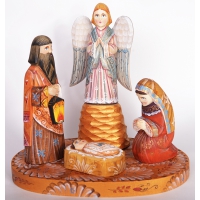 Hand-made, hand-painted beautiful Nativity Scenes. Signed by the artist!
Attention: Colors of the goods may vary from those which are on the photos due to each item is hand-painted.
If you have questions on the color, please e-mail us (Customer service->Contact us).

3 pieces item. The highest piece is 3.14'. ..
$39.00

Beautiful hand-painted and hand-carved Nativity Scene.Highest is 6.2' (Arch with an angel) ..
$99.00
Showing 1 to 2 of 2 (1 Pages)