Welcome to Pushkin Art Store
Hardstone Creations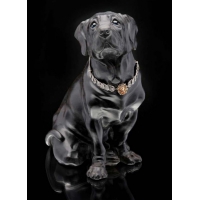 Alexandr Levental was born in 1959 in Leningrad. His father was geologic engineer, grandfather – jeweler-watchmaker. Alexandr studied at school #211 (famous Second Gymnasium before the revolution) – one of the most prestige school in Russia. In 1977 he was graduated from Restoration College as a stone cutter. After that he continued his artistic education under authority of well-known sculptor Eduard Bersudsky, the founder of Sharmanka Kinetic Theatre and his wife graphic artist Alevtina Voronova (http://www.sharmanka.com/Home/Welcome.html).
Than Alexandr worked as a team-leader of stone cutters at the "Monument-Sculpture" factory. First he worked with soft stones and later started to cut hard stones.
In 1989 in cooperation with his student A. Lukyanov Levental established a company named "Plasticity in a stone", the first one in USSR which specialized in precious and semi-precious stones cutting. After 1992 Alexandr was a head of stone-cutting workshop "Artes" of Alexey Pomelnikov (famous Russian Jeweler).
In 1994 Levental opened his own art workshop "Alexandr". In his works he paid a great attention to animalism. He taught more than 15 students, 3 of them are serious masters now. There are many of his publications in media.
Alexandr Levental is a participant of various exhibitions in Russia and abroad, including the exhibition in 1996 dedicated to 150 years of Faberge where his work "Boxer" took the second prize. His sculpture "Crab" was sold out at the Sotheby's Auction. Alexandr's work "Bulldog on the Drum" is at the permanent collection of the Hermitage State Museum in St. Petersburg, other work "Appolo" was exhibited in the State Russian Museum. Annually he takes part in the art stone cutting exhibition in Idar-Obershtein, Germany (the centre of European Stone Cutting). His works are in private collections in Russia and abroad.
Showing 1 to 7 of 7 (1 Pages)